Walt Disney was not a fan of sequels. He considered them cheap and lazy. When he did approve them, as in Son Of Flubber, it was only because there were leftover gags and ideas from the original film and Walt hated to waste a good joke. After Walt's death in 1966, Walt Disney Productions tried to abide by the wishes of its founder. But by 1972, the studio needed a hit and that no-sequels rule seemed a little shortsighted. And I think it's fair to say that Now You See Him, Now You Don't was not born out of a surplus of ideas from the original Dexter Riley film.
To be fair, Disney had tried to capitalize on the success of The Computer Wore Tennis Shoes without making an outright sequel. The Barefoot Executive reunited stars Kurt Russell and Joe Flynn with director Robert Butler and screenwriter Joseph L. McEveety. That movie didn't lose money but it hadn't done as well as its predecessor. So in the grand tradition of such collegiate comedies as The Absent-Minded Professor and The Misadventures Of Merlin Jones, producer Ron Miller decided to send Dexter Riley back to Medfield College.
Just about everyone from The Computer Wore Tennis Shoes returned for the sequel. In addition to Russell's Dexter Riley and Flynn as the beleaguered Dean Higgins, Butler brought back Cesar Romero as evil businessman A.J. Arno, Richard Bakalyan as his chauffeur/henchman Cookie (he was called Chillie last time but continuity has never been Disney's strong suit), Alan Hewitt as Higgins' rival Dean Collingsgood, and Michael McGreevey as Dexter's sidekick, Schuyler. Ed Begley Jr., who made his uncredited film debut in The Computer Wore Tennis Shoes, got a promotion, receiving both screen credit and a character name as science nerd Druffle.
There were a few new faces. Jim Backus makes his Disney debut as philanthropist and golf aficionado Timothy Forsythe. William Windom takes over the all-purpose science professor role from William Schallert. Dexter's new girlfriend, Debbie, is played by Joyce Menges, who previously popped up as one of the gnome maidens in The Gnome-Mobile but then left the industry completely after this film. Jack Bender, who made an impression in The Barefoot Executive and The Million Dollar Duck, enrolls at Medfield as the magnificently named Slither Roth.
Two other Medfield students have seemingly switched identities. In The Computer Wore Tennis Shoes, legendary voice actor Frank Welker played Henry Fathington and Alexander Clarke played Myles Miller. In Now You See Him, Now You Don't, Welker plays Myles and Mike Evans is Henry. Evans had already guest-starred on All In The Family as Lionel Jefferson, the son of the Bunkers' neighbors George and Louise Jefferson. In 1974, Evans co-created the sitcom Good Times and the year after that, the Jeffersons moved on up to their own show. You can see why Evans won't be back in this column. He was a little busy.
Now You See Him, Now You Don't isn't exactly a carbon copy of the first Dexter Riley adventure but Butler, Miller and McEveety don't stray too far from the template they'd created three years earlier. Dexter and his classmates are still bugging Dean Higgins' office and eavesdropping on budget meetings for increasingly vague reasons. Higgins still holds most of Medfield's student body in complete contempt, certain they're all as dumb as a bag of hammers. And new science professor Lufkin is just as desperate for expensive new equipment as his predecessor.
Also, A.J. Arno is back on the streets, his arrest for operating a network of illegal gambling joints dismissed as a mere misunderstanding. Arno has assumed control of Medfield's mortgage and doesn't appear to be remotely concerned about when or if Higgins can make payments. Dexter and his pals are understandably suspicious of Arno but the Dean is happy to let bygones be bygones as long as it doesn't cost anything.
Anyway, Higgins has bigger worries than a known felon taking control of his college under mysterious circumstances. Medfield's getting ready to compete for the Forsythe Prize, an annual science fair. Higgins and Professor Lufkin have high hopes for Druffle's groundbreaking bumblebee study and zero hopes for Dexter's attempt to recreate a Russian experiment in invisibility. But a freak electrical storm not unlike the one that turned Dexter into a human computer zaps Dexter's gizmo. Before you know it, Dexter's got a bowlful of invisibility juice. Or maybe it would be more accurate to call it invisible paint, since anything that gets dipped in it or sprayed with it turns invisible and the stuff washes off with water.
Dexter and Schuyler make themselves invisible to sneak into Arno's office and figure out what he's up to. Not surprisingly, the guy who gave away his super-computer loaded with incriminating evidence has an enormous floor model of his top-secret plan. Thanks to a loophole in some old zoning laws, gambling is still completely legal on the land Medfield is built on. Once Higgins fails to make a payment, Arno will foreclose and build a gamblers' paradise. Bad guys are always wanting to build casinos in Disney movies.
Higgins is not thrilled to hear this, especially since he's also just learned that Medfield isn't even going to be allowed to compete for the Forsythe Prize this year. Desperate for the $50,000 prize, Higgins calls up Mr. Forsythe himself and pleads his case. Forsythe agrees to meet with him and Dean Collingsgood over a round of golf. Since Higgins doesn't know the first thing about golf, Schuyler serves as his caddy and Dexter gives him an invisible hand. With Dexter's help, Higgins plays an astonishing game, sinking repeated holes-in-one and drawing a lot of attention to himself.
Now, I'm no golfer and I've never been invisible but I'm not quite sure how Dexter is able to pull this off. It seems to me that he'd have to jump up, catch the golf ball in midair, run with it all the way down the course and slip it into the hole. Even visible, that strikes me as a remarkable feat of athleticism. Sure, it might be considered "cheating" according to your precious "rules" but it would sure make golf a lot more fun to watch.
Higgins' miracle golf game scores him an invitation to play in a professional tournament against real pro golfers Billy Casper and Dave Hill (and if you don't recognize their names or faces, that just tells you how few golfers ever become legitimate household names). Unfortunately, Dexter hears about it too late to accompany them on the flight. Forced to rely on his own non-existent skills, Higgins ends up humiliated on national TV with a triple-digit score.
While Higgins and Schuyler are off playing golf (a surprisingly large amount of the movie is just about golf), a couple of other things are going on. Arno spotted Dexter showering off the invisibility serum in the clubhouse and tasks Cookie with figuring out what's up. And poor Druffle has learned the hard way that he's allergic to bee stings. Puffed up and wrapped head-to-toe in bandages, he won't be able to compete for the Forsythe Prize, leaving Medfield's hopes in Dexter's hands.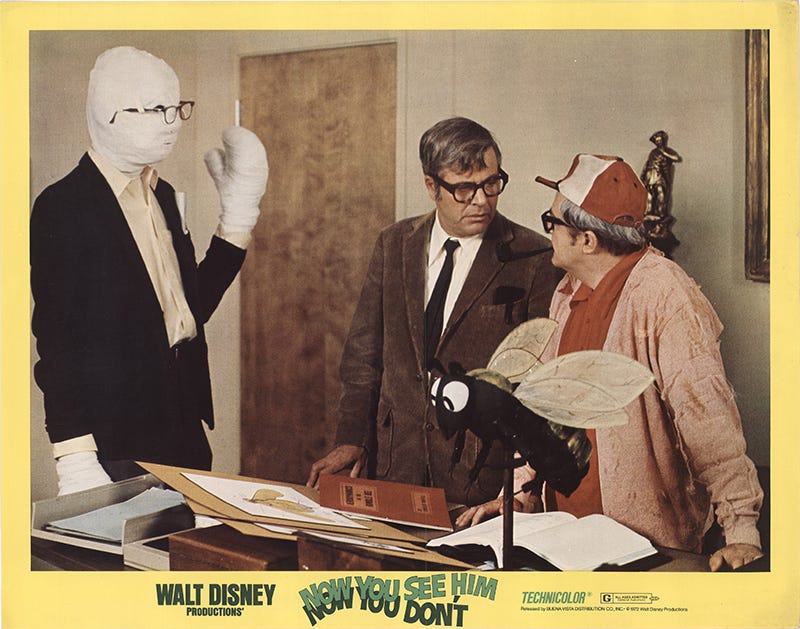 Incidentally, that image of Ed Begley Jr. covered in bandages was featured prominently in promotional materials for Now You See Him, Now You Don't. Makes sense, since he looks like the classic Universal Monsters version of the Invisible Man. Only trouble is he's not invisible and it isn't Kurt Russell, despite how the still is sometimes captioned and tagged. It's just Ed Begley Jr., hideously swollen up by bees. Years later, Begley would get wrapped up in bandages again for the funniest segment in Amazon Women On The Moon. I guess there's just something about Begley in bandages that's inherently funny.
At any rate, Cookie finally discovers what the kids have cooked up in the lab and Arno wants it. Cookie pulls a switcheroo, leaving Dexter and a very visible Schuyler looking like idiots when they try to demonstrate their formula for Forsythe and crew. Dexter is convinced that Arno stole his invention, so the gang pulls the old walkie-talkie-in-a-flower-arrangement gag again to bug Arno's office.
Meanwhile, Arno's plans for the spray are a bit more criminal than just cheating at golf. He's going to turn himself and Cookie invisible, walk into a local bank while they're making a big transfer, turn the money invisible and stroll out under everyone's noses. The plan seems a bit hands-on for a white-collar criminal like Arno but otherwise, it's fairly foolproof. But Arno forgot to reckon with those meddling kids!
Dexter tries to warn the bank president (Edward Andrews, who's played harried, ineffectual authority figures in everything from The Absent-Minded Professor to The Million Dollar Duck). Surprise surprise, nobody at the bank (including Ted the guard, played by the voice of George Jetson, George O'Hanlon) believes they're in danger of invisible robbers. So the kids stake out the bank and resolve to stop Arno and Cookie themselves, no matter how long a car chase it takes.
The fact that Now You See Him, Now You Don't concludes with an epic car chase should come as no surprise at this point. This one feels longer than most but at least this time there's a seemingly driverless car involved. There's also a familiar Volkswagen Beetle. Schuyler's car is our old pal Herbie from The Love Bug, sporting a green paint job and distressed to appear like a college kid's junker.
Ultimately Arno has the bright idea to turn the car itself invisible. Driving an invisible car in a high-speed chase on crowded city streets turns out to be just as dangerous as it sounds. Arno and Cookie end up crashing into a swimming pool, turning the car, themselves and the money visible again. This seems like a slightly more difficult spot for Arno to talk his way out of but something tells me he won't be spending much time behind bars.
In some ways, Now You See Him, Now You Don't feels like a step down for the Dexter Riley saga. On the technical side, it doesn't feel like anybody cared to put much effort into this one. Most of Disney's gimmick comedies start with a pop song and/or an animated title sequence. Not this time. The movie starts like a TV show with Dexter joining a scene already in progress. The titles play out over Dean Higgins tearing his office apart to find the kids' listening device. It's kind of a funny scene but the credits occasionally get in the way of the action, obscuring Flynn's performance. We don't even get a song this time, just Robert F. Brunner's instrumental score.
Even the movie's visual effects, usually one of Disney's strong suits, come across as more than a little half-assed. The optical trickery used whenever Dexter or Schuyler become partially invisible is particularly wobbly. It's no wonder that Butler decides to take the easy way out in the climactic chase and just completely disappear the car. It's a whole lot easier to have actors pretend they're reacting to a car than to show part of the car itself.
But in at least one important regard, Now You See Him, Now You Don't improves on the Riley formula by simply being a funnier movie. All that golf nonsense seems superfluous and it very much is from a storytelling perspective. But it gives Joe Flynn a chance to take the spotlight, especially in the second game. Flynn's a genuinely funny actor but being stuck in second banana roles limited his screen time. Here, Butler makes better use of Flynn than any other Disney movie so far.
Kurt Russell is also back in top form after being saddled with a genuinely unlikable character in The Barefoot Executive. Dexter seems slightly more ambitious this time. His abilities in The Computer Wore Tennis Shoes were totally the result of a freak accident. He stumbles upon invisibility accidentally as well, but at least this time he was actively trying to learn something. I also wonder if Medfield would have been allowed to keep the prize money, since Dexter really doesn't know how the invisibility serum works and couldn't recreate the experiment if he tried. That seems like an important rule for winning an award in science.
Now You See Him, Now You Don't was released on July 12, 1972, just one week after Napoleon And Samantha hit theatres. It received some surprisingly decent reviews and did fairly well at the box office, falling just a bit short of its predecessor. That was good enough for Disney. The studio wasn't through with either Kurt Russell or Dexter Riley yet. And it wouldn't be long before another Disney property got a sequel of its own.
VERDICT: I wouldn't plan your day around it but it's kind of fun so sure, it's a Disney Plus.
Like this post? Help support Disney Plus-Or-Minus and Jahnke's Electric Theatre on Ko-fi!