When I told my girlfriend that this week's Disney movie was called Scandalous John, she laughed. "That doesn't sound like a Disney movie," she said. "It sounds like a porno." She's not wrong, even though Scandalous John predates the porno chic movement of the 1970s by a couple years. It's fun to imagine this title on a 42nd Street grindhouse marquee and some very disappointed moviegoers leaving the theatre.
Disney's Scandalous John was produced by Bill Walsh, who'd been on a bit of a roll lately. His last two films for the studio, Blackbeard's Ghost and The Love Bug, had both been big hits. Maybe this gave him a little bit of freedom to adapt an obscure 1963 book by Richard Gardner. I haven't been able to track down anything else by Gardner and the only edition of Scandalous John I've found is the movie tie-in.
Walsh cowrote the screenplay with his frequent collaborator, Don DaGradi. The increasingly prolific Robert Butler, fresh off The Barefoot Executive, was assigned to direct. Up till now, Butler's only features had been Kurt Russell gimmick comedies. But his extensive television credits had amply demonstrated that he could tackle all genres, from westerns to action-adventure to sci-fi.
Scandalous John also marked Brian Keith's return to the studio after six years. Disney had been very good to Keith. The Parent Trap in particular gave his career a huge boost. But Keith hadn't made a Disney appearance since Those Calloways in 1965. The year after that film, he was cast as the lead in Family Affair, a sitcom about a confirmed bachelor trying to raise his late brother's three kids. Another Disney regular, Sebastian Cabot, costarred as Keith's valet. Family Affair was a big hit, running for five seasons on CBS and cementing Keith's star status. The show aired its last episode on March 4, 1971. Scandalous John was released about three and a half months later.
Keith stars as John McCanless, an aging, cantankerous eccentric who lives alone on his New Mexico ranch. McCanless's unpredictable behavior has resulted in a revolving door of ranch hands. The latest poor sucker to get stuck with the job is Francisco Torres Martinez, so newly arrived from Mexico that he's practically still dripping from the Rio Grande. Alfonso Arau plays Martinez. We'll see him again in this column but most will immediately recognize him from his role as El Guapo, owner of a plethora of piñatas, in Three Amigos!
Martinez gets dropped off at the ranch by his cousin, who assures him that this is a good job. That seems unlikely when McCanless immediately starts shooting at him, mistaking him for someone from the bank. Martinez is rescued by McCanless' granddaughter, Amanda (Michele Carey). She persuades him to stay, promising that the old man is really harmless, that the work is minimal and the pay is good. Once introductions are made, she ignores his name and dubs him "Paco", which sure feels like a racist thing to do. Nevertheless, he accepts it and everyone refers to him as Paco from then on.
McCanless lives in fear of the bank coming to foreclose on his mortgage. Seems there's a greedy land developer (isn't there always?) named Whittaker buying up all the ranches to make way for…a new dam, I think? Honestly, it's never all that clear why Whittaker wants the land. He just does. So Amanda talks to Whittaker's son, Jimmy (Rick Lenz), to see if he can help. Jimmy unwisely tries to parlay this request into a date. Perhaps surprisingly for a 1971 Disney movie, Amanda doesn't appreciate that and takes off.
Jimmy rides out to the ranch to meet McCanless. While the old man is none too happy to meet someone named Whittaker, Jimmy comes up with a potential solution. He proposes turning the ranch into a museum that John and Amanda can run together. I'm not sure how that would work if his dad wants to flood the place with his dam. In any case, John's not buying what Jimmy's selling. Despite his hostility, Jimmy eventually starts developing a fondness for McCanless.
Meanwhile, McCanless and Paco are bonding over music and the occasional gunfight with imaginary Apache. One night over a couple bottles of whiskey, McCanless fills Paco in on his plan to save the ranch. The two of them are going to go on an old-time cattle drive, bringing the herd north to market. McCanless is sure that they'll fetch enough to save the ranch and then some. But the next morning, Paco learns that the "herd" consists of one very scraggly-looking old bull. Even though it's clear that McCanless's grasp of reality is tenuous at best, Paco humors him and agrees to go on the cattle drive.
First, they head into town for supplies, McCanless on his old horse and Paco riding a semi-cooperative mule. They ride directly into a department store, where Paco gets fitted for some new boots. Paco then heads over to the general store alone for the rest of their supplies. This attracts the attention of Sheriff Pippen (Harry Morgan, returning from The Barefoot Executive…toldja we'd be seeing a lot of him).
Even though he refuses to carry a gun, Pippen is still your typical New Mexico sheriff in that his primary mission is to get rid of illegal immigrants. (The term "wetback" is tossed around a lot in this movie, probably one of the reasons it's not on Disney+.) McCanless intervenes and they're able to escape back to the ranch with the cops hot on their trail. Once they show up there, McCanless slashes the sheriff's tires and the two caballeros embark on their cattle drive.
Their journey takes them past a bar where a biker gang is harassing the owner, Mavis (the always delightful Iris Adrian, who also popped up briefly in The Barefoot Executive). McCanless rides to the rescue, capturing the drunks with his lasso. Rather than thanking him, Mavis complains that he wrecked the place and is driving off good customers. Perplexed, McCanless turns the gang over to a couple of old Indians, assuming the gang is with them. The Indian says his people have taken the blame for a lot over the years but he's not about to accept responsibility for a bunch of "white weirdos". Undaunted, McCanless pays him to take the bikers away. The Indians shrug, take the cash and lead the captives off into the desert.
Finally, McCanless and Paco arrive in a little tourist trap town with folks dressed up like Old West characters. In one funny bit, McCanless chases off a woman dressed like a prostitute and is horrified when the bartender says, "Take it easy, they're all just volunteers. Haven't you ever heard of civic pride?" When he encounters an actor playing a crooked card dealer, he demands to know if he's carrying a gun up his sleeve. He's not but pretends to shoot a finger gun. Insulted, McCanless fires his real gun above the dealer's head. Not realizing the bullets are real, the pretend sheriff admits that a sleeve gun would be a nice touch and advises the dealer to run over to props and pick one up.
McCanless pursues the hapless dealer, firing wildly into the streets, much to the delight of the tourists. No one is hurt but a private train owned by Barton Whittaker himself is badly damaged. Whittaker has just arrived with a bunch of visiting dignitaries, planning to sell them on whatever it is he wants to do with McCanless's land.
That's Simon Oakland as Whittaker, by the way. He's probably best known as the psychiatrist who turns up at the end of Psycho to explain everything. And John Ritter makes his second and unfortunately last Disney appearance as Wendell, Whittaker's bodyguard/assistant. Ritter plays a pivotal role at the end of the movie but he has exactly one line of dialogue, which seems like a waste. He seems like a natural fit for Disney's live-action comedies, so it's bizarre that the studio didn't utilize him again after his first two roles.
McCanless and Paco end up in jail, where Whittaker tries and fails to make a deal with him. But Jimmy, who seems to have some unresolved daddy issues, has switched sides and helps Amanda break the pair out of lockup. You'd think Amanda might want to keep her grandfather on a short leash after all they've been through. But no, they let them go to ride off and hijack Whittaker's train.
With Paco more or less serving as engineer, McCanless gets rid of Whittaker's passengers one by one and forces everyone to listen to mariachi music for a while. As hostage situations go, this one's not too bad. But sooner or later, people start to realize there's essentially a runaway train on the loose since nobody on board knows how to stop the thing. The train gets switched to an unused stretch of track leading to an abandoned mine, where it finally derails.
Whittaker realizes this has gone too far and is ready to cut his losses. But just then, Wendell shows up and shoots McCanless in the back. Amanda and Jimmy bury the old man back at the ranch and give the animals to Paco. He decides to head back to Mexico, accompanied by the spirit of his new friend.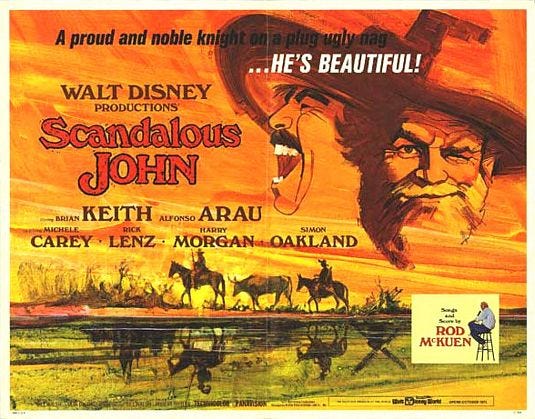 It doesn't take an English major to realize that Scandalous John is a modernized riff on Don Quixote set in the American West. In case you missed it, the reflection in the poster image above makes the connection explicit. What's a little surprising is that it mostly works. Almost all the credit for this goes to Brian Keith. His face hidden behind a thick beard, Keith gives a funny, fully committed performance. His muttered dialogue is a little hard to understand at first but you get used to it. Keith has several big moments in the film and he makes the most of them. When McCanless comes across a woman's shoe in the desert, he delivers a touching, wistful monologue imagining what became of its owner. It's impressive that Butler allows the movie to move at its own languid pace and take time for moments like this.
Alfonso Arau is a fun Sancho Panza to Keith's Quixote, although the character heads uncomfortably into caricature territory several times. It would have been nice to learn more about his backstory. It isn't clear where he came from or what he's going back to at the end. But the friendship that develops between McCanless and Paco feels genuine and heartfelt. It's hard not to be moved when McCanless defends him against the racist sheriff who wants to deport him.
Michele Carey and Rick Lenz do the best they can but their characters are weak links in the movie. Their relationship starts poorly and even though they end up together for some reason, they still don't seem to like each other all that much. Not to mention the fact that Amanda's concern for her grandfather's wellbeing comes and goes whenever it suits the narrative.
Butler and cinematographer Frank Phillips capture some beautiful images of the New Mexico landscape. But other technical aspects are less impressive. The train sequence features some of the least convincing miniatures Disney has produced in a long, long time. Walt Disney famously loved model trains but I find it hard to believe these would have made the grade under his watch.
Rather than rely on one of their usual house composers, Disney brought in a bit of a ringer to compose the film's score. Rod McKuen made a name for himself in the 1950s and 60s as a poet, songwriter and musician. He'd had success translating the songs of Jacques Brel into English and branched into film in the late 60s with movies like The Prime Of Miss Jean Brodie and A Boy Named Charlie Brown. In addition to the score for Scandalous John, McKuen also wrote and performed the song "Pastures Green". It's not a great song, to be honest, but his score is kind of interesting.
Disney did not seem to have a lot of confidence in Scandalous John. It was barely released in a handful of regional theatres on June 22, 1971, and sank without a trace soon after. That's kind of a shame. This isn't a great movie by any stretch but it is unusual for the studio and individual moments have stayed with me. It sort of reminds me of some of Clint Eastwood's man-out-of-time movies like Bronco Billy and Honkytonk Man. It'd be interesting to see someone like Eastwood take a crack at this material because I do think there's something of value here.
Sadly, this is the last we'll be seeing of Brian Keith in this column. He continued to work steadily throughout the 1970s and 80s. His highest-profile gig was probably the show Hardcastle And McCormick, which ran for three seasons starting in 1983. In later years, he was diagnosed with emphysema and lung cancer, battled depression, and suffered some serious financial setbacks. In 1997, his daughter, Daisy, took her own life. Two months later, Keith himself died of a self-inflicted gunshot wound. He was 75 years old.
Brian Keith was one of Disney's best and most reliable stars in the 1960s and he's too often overlooked. The Parent Trap alone secured his legacy but he was even able to liven up some real duds like Ten Who Dared and Moon Pilot. Scandalous John is by no means a great film but it does allow Brian Keith to go out on a high note. That alone is enough to make this a Disney Plus.
VERDICT: Disney Plus